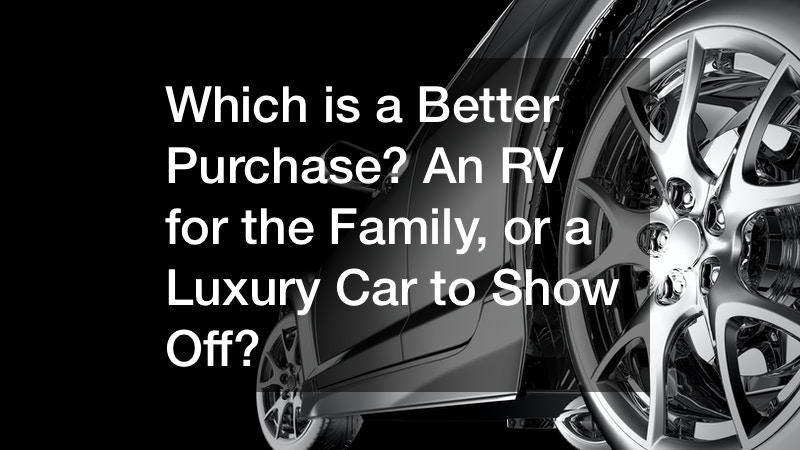 Which is a Better Purchase? An RV for the Family, or a Luxury Car to Show Off?

If you are in the market for a new vehicle, it can be hard to decide what to purchase. There are so many excellent options on the market that the choice may be difficult. If you like to pack up the entire family and take long scenic trips through several states, an RV might be perfect for you. On the other hand, if you want a car that wraps itself around you while ensuring you have the most comfortable and luxurious drive ever, then a luxury car may be more your speed. Before you make your final decision, check out the pros and cons of both options.
What Is An RV?
Motorized Recreational Vehicles (RVs) tend to be a broad term that is used to describe a trailer or motorhome that has self-contained living quarters and is designed to provide specific accommodations. They come in different shapes and sizes. There are three main categories of RV. There are truck campers, trailers, and motorhomes. Motorhomes are a combination of a house and vehicle, a house on wheels if you will. You can drive them without having to tow anything. Trailers must be towed by another vehicle.
Class A Motorhomes are the largest ones available and can be up to 45 feet long. Class As are similar to a bus and built on a commercial bus chassis. Some models can sleep up to 10 people. Some of them have slideouts to provide more room while it is parked. They use diesel fuel and only get about 10 miles to the gallon. They are the most luxurious type of motorhome, and they have the price tag to prove it. Class B Motorhomes are the smallest motorhomes you can find. It is built on a van chassis and is easy to drive. They are often referred to as camper vans. These campers are more like cargo vans that have living space. They usually have enough room for a dining area, one sleeping area, and a small kitchen. The Class C Motorhome is the middle of the line RV. It is about 20 to 34 feet long. This RV is built on a truck chassis, making it easier than Class A to drive and more room than Class B. The Class C RV has a kitchen, bathroom, dinette, and sleeping areas. This size RV can sleep four to eight people.
Why Buy An RV?
When you own an RV, you fit into a small group of RV owners that enjoy travel and exploration anywhere that you can drive. These vehicles allow you to be independent and self-reliant. You can go wherever you want whenever you want. You can travel at your own pace and on your own schedule. You are able to travel with your family in an affordable way. There is less hassle when you own an RV. You do not have to worry about packing everything you want to take in a tiny suitcase. You do not have to worry about losing some of your luggage or missing your connecting flight. You are no longer concerned with check-in and check-out times. You can eat and sleep on your own schedule. You never have to be in a rush to get somewhere again. Some people that own an RV even decide to sell their house and live in their RV. You may not be at a stage of life where that is possible, but it is always an option. While RVs can be expensive, they make up for their initial cost over time. You save money on airfare and hotel rooms. Another perk is that you always know how clean the place is where you are staying since it is yours.
Benefits To Having An RV
In addition to the benefits mentioned above, there are many other benefits. When you have an RV, you have complete control and flexibility at the same time. Most importantly, you are no longer tied to a schedule. You are able to take everything you need with you in an RV. There is no limit to the number of books you can take. If you want to take five pairs of shoes, there is no reason why you cannot. You can take your pets with you everywhere you go. You will not have to board your pets or worry about them on the plane. You don't have to find a hotel that will allow you to bring a pet with you. No longer do your furry friends have to be left behind. Finally, RV'ing gives you a chance to try being a minimalist. While you can take more things with you on the road, you also have to minimize what you have. You will only have the items you need.
Downsides To An RV
There are some downsides to an RV lifestyle. Some of the downsides include that you always feel like you are on the move. And really, you are. It's hard to find rest and downtime. There is a lack of routine while RV'ing. The more time you spend on the road means, the less likely you are to have a schedule. You can easily fall out of any routine this way. For some people, this is a positive, but for many, it's a negative. You will not always have the best WiFi or technological availability. Some of the places you are driving may not have any signal at all. The conveniences that you are used to are not always going to be in reach. Consider going to a grocery store where you have no idea how to find anything. Or a grocery store that does not offer the brand you like. You will have to use a laundry mat to wash your clothes by hand. You have to remain much more flexible and know that you may not be able to find your favorite brands, or you have to drive 15 miles out of your way to wash your clothes. RV engine repair is not easy to find, and it most likely will not be cheap. You will need to find RV covers to protect your RV when you are not driving it. When you are traveling in your RV, you have to find specific places and a private community where you can park.
What Is A Luxury Car?
Luxury cars are cars that have better performance, the highest quality technology and safety features, and luxurious interiors. A higher level of care is put in the materials and construction of a luxury car. Luxury cars often have additional perks like heated steering wheels, seat massagers, water-resistant windows, and entertainment systems. Frequently, luxury cars come with extended warranties and concierge services. They are made of expensive materials and have unique features like monogrammed seats and a cooler in the car. Unfortunately, they also come with a higher price tag.
Why Buy A Luxury Car?
A luxury car is intended for a specific type of driver. They provide an experience to the person driving the vehicle. They provide satisfaction and are fun. The driver has a more enjoyable ride with all the amenities contained within them. Luxury cars offer premium service. Luxury brands know that no one wants to worry about car maintenance. They provide complementary services where they will pick up your vehicle and drop off a loaner to you. It is easier to get luxury parts, like the Cadillac escalade parts, when you have a luxury car. Some manufacturers will come to you and service your vehicle wherever it is. They offer premium collision repair services if your vehicle is ever hit and damaged.
Benefits Of A Luxury Car
There are many benefits to owning a luxury car. They include the concept of luxury in a car. A luxury car is beautiful to look at and amazing to drive. You can get VIP benefits when you purchase one. Having a luxury car adds a touch of class to mundane tasks, such as dent removal and taking your car to auto body shops. If you ever have a problem with your car, you are provided better service when you take it for repairs. Luxury cars are an exclusive class. Not everyone can afford one, and when you have one, you are among an elite class of car owners. Luxury cars always have the latest and greatest technology. They were the first cars to have adaptive cruise control, lane assist, and smartphone integration. When you buy a luxury car, you are the first person to drive it. Some manufactures invite you to the factory as they are finishing your car so you can watch it being built.
Downside To A Luxury Car
One of the most significant downsides to a luxury car is the cost. Not only do they cost more, but they also depreciate faster. Often luxury cars have less fuel economy and tend to chug gas, so you fill-up the gas tank more. When you do fill up the tank, you will most likely need to use premium gas. In addition, you are going to pay more for insurance if you purchase a luxury car. Insurance will go up because the car costs more and the parts cost more to replace. Luxury cars are more likely to get stolen, as well. If you were to get into an accident in your luxury car, you should contact accident lawyers. You may need someone to defend you. The other person in the accident may see your car and make assumptions about you. Some may see your luxury car and assume you are rolling in the cash, even if you are not. You may need a lawyer to protect you. If you are ever caught driving under the influence, you may need a premier DUI attorney.
Which Is The Better Option?
There is no right or wrong answer to this question. It is more about where you are right now in your life. That is what will help you determine which one is the better option for you. If you are interested in traveling and seeing the continental U.S., you may want to consider an RV for your next car. If you have no desire to drive across the country in an RV, then perhaps a luxury car is the right one for you. On the other hand, if you want to drive around in the most comfortable car you can find with the most up-to-date technology, a luxury car is the right choice for you. These two vehicles cater to different types of people. For the most part, people know into which category they fall. If you still are not sure which one is right for you, you can rent both cars for a set period of time and take them both for a test drive.
It is entirely up to you which car is the best option. What you decide today may not be the right choice in two years. It would be best if you made a decision based on what you want to do today. For example, if you are still working and cannot take off a significant amount of time, an RV is not the right choice to make at this time. In addition to your lifestyle, there are other factors to consider. These include how much do you want to spend, who do you want in your car with you, and are you prepared for hefty repair bills. With either vehicle, you could be facing hefty repair bills.
Posted in Home
---
---