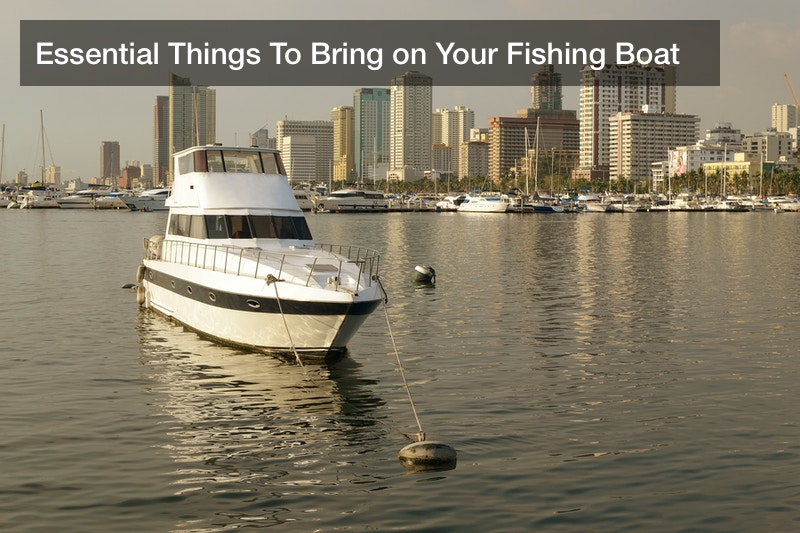 Essential Things To Bring on Your Fishing Boat

Does spending a few hours or an entire day on your fishing boat sound like a great plan?
You're not alone. Millions of people find fishing to be a great way of relaxing and having fun. In fact, a new report by the U.S. Fish and Wildlife Service indicates an 8 percent increase in angling participation since 2011, from 33.1 million anglers to 35.8 million in 2016.
Fishing from a dock is fun. But it still doesn't compare to the excitement of catching fish in the middle of the lake or out on the sea.
To maximize the enjoyment of your fishing adventure, make sure to bring all the supplies and equipment that you'll be needing on your trip. It is frustrating to have to return home because you forgot something.
Don't know where to start? Read on as this handy guide will help you prepare for your next fishing trip.
The Bare Necessities
Don't forget your boat keys!
Sometimes, the smallest things that we tend to forget are the most important. It can dampen the mood when little mistakes like this happen.
Confirm that you have all your fishing gear ready, including your fishing rods, reels, bait, and tackle box. You should make certain that your tackle box is complete with extra hooks, sinkers, bobbers, fishing line, etc.
Your fishing documentation is also one of the most important things that you should bring aboard with you on the boat. This includes your proof of ownership, insurance, boating license, and other boating documentation required in your state.
Food and Water
While nature is abundant with fish to catch, cook, and eat, it's still necessary to bring extra food with you on your fishing adventure.
It's better to have a full stomach than an empty one while waiting for a big fish to bite.
You should also bring lots of drinking water with you on your trip. Especially on a hot, summer day when your body needs extra water to cool off.
Skin and Sun Protection
However lovely a sunny day looks, the skin will need protection from the harmful effects of the sun.
Wearing a sunscreen with an adequate SPF of 30 or higher will help protect the skin from the damaging UV rays. For extra protection, adding an extra layer of clothing can also help.
The eyes need a protective cover, as well. Anti-UV sunglasses can protect the eyes from the harmful UV and also reduce the glare caused by the sun.
Safety Equipment and Devices
Ensuring the safety of everyone aboard your boat should be one of your top priorities.
Bringing a handy first aid kit is a must. A good bug repellant spray should also be brought to fend off the nasty bugs and mosquitoes.
To be prepared for any minor mishaps or emergencies, also bring a watertight flashlight, fire extinguishers, signal flares, and floatation devices.
You should also bring oars. In case of boat malfunction, you can still row your boat to shore.
GPS and Navigation
Did you know that 95 percent of all Americans live within an hour's drive of a navigable body of water? But however close you are to land, it's still best practice to have a handy navigation tool or GPS.
Most fishing boats do not come equipped with their own navigation system. You can check boat dealers and shops that sell boating accessories for the best GPS that fits your budget.
Finding the perfect fishing spot is as important as finding your way back to shore.
Time To Go Fishing
Are you raring to spend the day out on the nearby lake with your fully equipped fishing boat?
Remember to have everything checked for functionality. If you find that your boat needs replacement, don't hesitate to scout for a new and better one.
95 percent of boats sold in the U.S. are made in the U.S., so there is a great probability that you'll find several among the fishing boats for sale at your nearest boat dealer.
Whether you'll be angling out on the lake or in the sea, preparation is the key. Having these essential things on your fishing boat will make your next fishing trip a lot more fun and worry-free.
Check out our other must-read articles for more fishing tips like this and be ready to have a wonderful time catching fish from your boat.
Posted in Boat financing, New pontoon boats for sale, Used pontoon boats michigan
---
---